What is Amana Capital Asset Managers Program?
Amana Capital works hard to setup special solutions and unique trading environments for Asset Managers, enabling them to manage clients' accounts easily.
As an asset manager you will have direct access to the company's global network of international banks and financial institutions liquidity without trade size restrictions. Amana Capital multi-account management solutions are specifically designed and tailored to meet your business interest.
These tools enable you to send block orders under one main/master account using a single MetaTrader 4 (MT4) interface (account). The orders are sent to a system that is programmed to allocate trades proportionally to separate client accounts according to clients' needs. Obviously, such a solution is perfect for you in case you manage more than one account.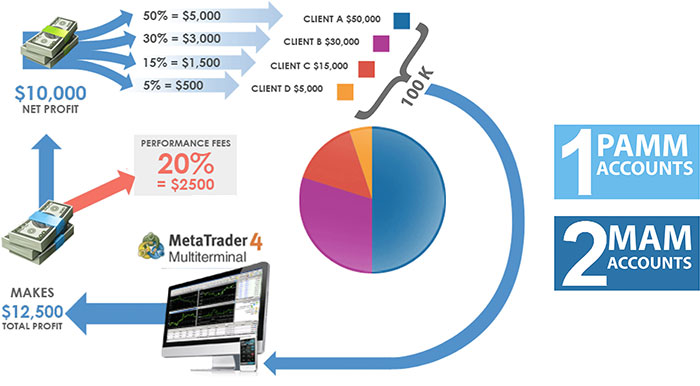 Advantage of Amana Capital Asset Manager Program:
In order to secure a pleasant trading environment for its clients, Amana Capital offers professional traders who manage multiple accounts a variety of solutions for simultaneous execution. You will benefit from superior technologies, high liquidity and flexible/adjustable trading software. You will also benefit from:
The ability to trade Block Orders from a single main account using MetaTrader 4 (MT4) platform.
No restrictions on managed accounts number (number of clients).
Different types of orders allocation methods (Proportional, Percentage or by Lot size).
Percent Allocation Management Module (PAMM) enabling unlimited number of managed accounts simultaneously from only one Metarader 4 account.
Dedicated MAM servers with very low latency.
The ability to manage more than one master account with different setups and trading strategies.
The availability of all the regular order types that are usually available on MetaTrader 4 (MT4) (Limit, Market, Stop, Trailing Stop, etc...).
The ability to trade using Expert Advisors (EAs) or algorithmic trading.
The ability to easily manage and generate detailed trading reports.
Become a partner with Amana Capital and benefit from outstanding services